About me
This is a place for marathon training and marathon training schedules. And really not about me.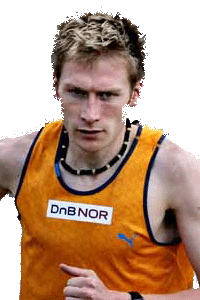 So I will be shorter than normal..
Why this interest for the marathon ?
I love running.
I love the science behind it.
I love individualizing information
And the marathon has all three.
For a third of my life I have run. The last seven of them as a professional. And the last ten twice every day.
At the moment, though, my focus is on my after-sports-career, currently studying my fourth year of Medical School for M.D.
My "career bio" on my not-so-updates-page-anymore, for those of you that are interested. Type in www then Marius Bakken followed by .com.
The 2005 World Championships 5k Final with the Norwegian blue & white outfit.
The fascination for the marathon has always been there.
Not in particular the top guns, the winners, but the marathon runner him/herself.
The last few years I have had the privilege to work with marathon runners, from some quite fast ones, all the way up to 4-5 hours and a goal to finish. With interesting help and discussions.
Every marathoner, the same daily challenges...
All marathon runners have the same distance to challenge. And the same daily challenges;
With :
and so on.
No matter what goal ; to finish, 5 hour,4 hour,3 hour, 2 hour. The marathon has all what the 5k, 10k has with additions.
At the same time, a lot of this information out there is too general.
Hard to apply.
And not everything applies to everyone.
I, personally, think it can be done better and should be more individualized.
Well, that it why you see marathon training schedule.com
Enjoy and happy running.