Nike Running Shoes – A Review of the Top Nike Shoes for Stability, Trail, Womens and Men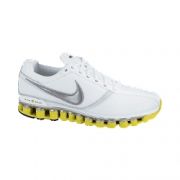 Nike running shoes are widely known for its high quality, premium sporting goods patronized by big celebrity-athletes. But what are the best Nike running shoes ? Nike's products are of exceptional quality and outstanding style. All new Nike running shoes features some of the best shoe technology you can find -even the cheap Nike running shoes options. It is one's pride to sport a Nike, whether it be a bag, a shirt, and most impressively when it's a pair of shoes. Nike has a wide array of running shoes, each one specifically designed to give comfort and a boost in performance of the user.
Learn more about their best and newest models and technologies by reading on. Let us give you some info on the top Nike shoes for women's, top Nike trail shoes and cheapest picks. This may help you find the best pair of Nike running shoes that can help you boost your performance level and decrease your injuries. Also, get to know more about the new Nike+ feature which allows you to track your pace, speed, distance, even calorie burned! You just need either an iPod or the Nike sport band and the Nike+ sensor, and you'll be able to measure these things while you run with your Nike+ ready running shoes. You can even get to join the interactive online community with it. This is another breakthrough from Nike, a sign that innovation is something the brand holds very important.
Best Nike Running Shoes for Neutral Runners - Mens and Women's
Nike Zoom Vomero
Nike LunarTrainer+
Nike Air Pegasus 26
1. Nike Zoom Vomero
For a neutral running shoe, Nike Zoom Vomero is a bit more comfortable than its counterparts because of some extra cushioning technology, the CushIon midsole and the signature Zoom Air feature. This makes the Zoom Vomero a favorite of frequent runners who find it physically straining for their feet to constantly pound on the ground while running. The extra cushioning makes it a point that the feet will feel the extra protection and additional soft glide, a testament of Nike's care for everyone's feet.
2. Nike LunarTrainer+
The Nike LunarTrainer+ is fit for people who run frequently and intensely, especially in trainings. Its LunarLite foam that provides the cushioning is also very durable and also gives runners a responsive ride. It uses with the Nike Flywire technology which makes the shoes lightweight and which adds more support to the upper. Plus, it is Nike+ ready.
3. Nike Air Pegasus 26
For those who experience mild underpronation, the Air Pegasus might just be the right Nike running shoes for you. Constantly improved to respond to everyone's needs, it is now on its 26th edition and at its best. Its upper is of the soft mesh that emphasizes breathability and comfort and has overlays that provide a snug fit. It also has a soft foam footbed and flex grooves. Also, it is Nike+ ready.
Best Nike Running Shoes for Cushioning/Stability
Nike Zoom Structure Triax+ 13 iD
Nike Air Zoom Elite 4
Nike Air Span+ 6
1. Nike Zoom Structure Triax+ 13 iD
The Zoom Structure Triax+ 13 is for those who need exceptional cushioning and support. This time, in its 13th edition, Nike gives you the power to customize your running shoes. You can customize as you choose your midsole and outsole types to fit your needs. For example, you can choose whether the outsole will be specialized for trails or for roads, and whether your midsoles should be softer or firmer. You can also even customize your laces and even have custom IDs printed on your shoes. This way, your pair will be your pair, and no one else's.
2. Nike Air Zoom Elite 4
Nike Zoom Elite 4 boasts of its lightweight quality that goes with the durability and functionality. It is a great pair for those who need mild pronation control. Your feet will surely be taken good care of by this pair of shoes because of its highly commendable shoe biomechanics—it fits well and gives utmost comfort to wearers. This edition has replaced the full air sole with its new system for the outer sole and has now equipped it with the Nike+ feature.
3. Nike Air Span+ 6
If you are a mild overpronator, the Nike Air Span 6 can provide you with just the right cushioning and medial support. It also has the Flywire upper which makes it absolutely lightweight and sleek. The CushIon ST midsole makes it a point that users experience a responsive ride and cushioned feel, while at the same time ensuring high durability that makes this pair a very good option for those who run a lot. Of course, the Nike Air technology won't be missing in this pair. Also, it is Nike+ ready so it would be a good idea for you to check out some Nike+ features, as well.
Best Nike Running Shoes for Motion Control - All New Nike Shoes
Nike LunarGlide+
Nike Zoom Equalon+ 4
Nike Zoom Nucleus MC
1. Nike LunarGlide+
With nearly seamless upper, comfort and breathability is emphasized in this number. The Nike LunarGlide+ is said to be a pair that thinks for your feet. It practically knows when you need more extra stability. Aside from that cool and unique feature, the pair is outstandingly good looking. The colors may be flashy but still hip and cool—perfect for the fun and adventurous. Plus, its LunarLite system sole provides soft and plush cushioning and springy response, at the same time. The smooth, lightweight, comfortable ride is also amazing and impressive. For a snug fit, it also has microfiber synthetic overlays in the rear- and forefoot. Plus, its waffle outsole style provides additional multi-surface traction features. This is a pair of Nike running shoes that anyone, from athletes to non-sporty people, can enjoy.
2. Nike Zoom Equalon+ 4
The Nike Zoom Equalon+ 4 is the type of shoe that provides users utmost stability, but it is also one that allows smooth and soft ride. This is a shoe which helps reduce or correct over-pronation. Compared to its predecessors, this 4th installment has much improved features. It has a breathable mesh which is a signature Nike style that provides comfort and ease. It also has a heel-strap overlay which provides a snug fit and secured lockdown of your feet. The improved cushioning blends a firmer touch with soft cushioning for a greater support and comfort. Its outer sole is made out of mixed rubber that provides excellent traction and improved durability of the shoe.
3. Nike Zoom Nucleus MC
The Zoom Nucleus is one of the best Nike running shoes that specializes in motion control. It is highly durable and provides great support that allows you to run long distances without getting strained. The Zoom Air unit does its exceptional cushioning job in both the heel and forefoot. The waffle pattern for the outsole and the Duralon provides excellent traction. It also has a midfoot saddle that gives the user pronation control.
Nike Running Shoes Reviews – The Swoosh Says it All
Founded in 1964, Nike has continuously and consistently provided the world with high quality sporting goods well-regarded by many. Originally called Blue Ribbon Sports, the company used to work as a distributor of Japanese-made shoes. The Swoosh, which at that time signified the independence of the company, was first used on 1971. In 1978, the company was officially re-named Nike, from the Greek goddess of victory.
Now, the swoosh is already an identity. It can stand alone and it can be noticed and recognized by the people. Along with the well-known tag line "just do it," the swoosh remains strong as a Nike mark of speed, strength, excellence, fearless innovation, and the will to do things. Whether your choice is the best womens Nike shoes or a cheap Nike running shoes for occational running. A logo and an identity, the swoosh has a lot to say about the company and its products. And the fact that it is a highly recognized logo and brand screams the fact that Nike is indeed a good brand, especially when it comes to the Nike running shoes.