Running Tips, From Injuries To Running Program To Treadmill Running And Stretching..
"The Running Tips On The Small Questions That Bug The Runners Mind"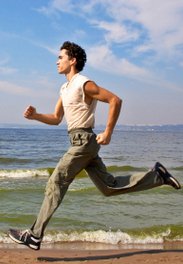 Good running tips are based on the questions runners ask themselves in their daily training. One of the most common ones are ;
"How to I plan the perfect running program- what workouts do I use and how much is enough?"
Other major issues are such things as ,
treadmill running,
should I stretch or should I not?
and of course - the injuries...
That is, how and why is my back, achilles and knee hurting.
These things are pretty much the same for 5k runners, 10k runner or those that are half marathon or marathon training.
This is the start for a page ; where you can hopefully find some answers,opinions and suggestions - a simple guide to those kind of questions.
We all have the curiosity for most of the same running topics. As we learn to use our body in our daily training.
About how to solve the challenges that we face as we use our body in our daily training regime.
NEW ! Questions And Answers at the bottom of the page (click to go there directly..)
No Need To Be a Exercise Physiologist
The best running tips you will find among runners themselves, not the "experts"
Much of the advice in this section is based on other runners experiences, as well as my own.
You do not have to be an exercise physiologist to understand the basics ; it is so many things that actually most runners are interested in.
And a number of well-established good solutions to many of these challenges.
we sort of stand on the same platform.
we are searching for much of the same information
to find the answers to those very similar running problems we face.
To shoot off here right from the start, the muscle cramps, the running form and more..
Is Treadmill Running As Effective As Outside Running ?
This is a heavily discussed topic among runners.
Sometimes you have to face the winter roads, or it is simply more convenient to run the workouts on treadmills.
Treadmill running can actually be more effective than outdoors running..
Therefore, you can find an article about this exact topic and the effectiveness in this article right below...
Treadmill Running - and why treadmill running can be extremely effective.
Should I Be Stretching After My Hard Workouts ?
Research actually shows that stretching has a negative (not even neutral!) effect on performance. Runners should probably stretch, only if this helps for injury prevention :)
I say : better to find the best running shoes for you (see article about this) and you'll have a ton better injury prevention compared to stretching.
Here you can find the piece on Stretching for Running.
In this article you'll find tips on how to do eccentric stretches/strength to boost strength, injury prevention much more than "regular stretching"
What Elements Are Important In The "Perfect" Running Program ?
Or rather, is there such thing as the perfect running program ?
Probably not.
At the same time there as some elements that makes the running program as individual as possible - and these elements helps in injury prevention.
And in optimizing the performance.
These are elements are such things as,
periodization,
hard-easy day variation
and finding types of running workouts that fits you the best among the most common training type session.
A few general thoughts on the running program is gathered in this little Running Program article.
What Can I Do About Muscle Cramps And How To Recover The Muscles From Muscle Soreness More Effectively ?
This is a big one - and can be done quite easily with such things as ice-baths and active recovery techniques.
As for specific muscle cramp problems, for those that suffer from this - muscles cramping up at the end of marathons, workouts or even shorter races there are some things you can do....
And 90 % of runners will get better just by following 4 simple steps.
You can read more about these 4 steps to avoid/get rid of muscle cramps in the Running Cramps part located here.
Can I Change My running Form, My Running Technique. In Case, How ?
Another interesting topic - and I do believe this is possible to change ; with success but it does take time and it does take the right kind of approach.
I have Hurt My Achilles, I Have This Strange Sensation In My Hamstrings.
What are most likely the cause for this and other running injuries?
First up is an article about hip pain, that you can read about in the menu at the far bottom of this page.
Here you also find a piece on Leg Pain Running Problems - and here on on Hip Pain in Runners.
Both these problems are quite common for all-level-runners.
Running For Beginners, What Is it Important To Look After?
You can check out this one, concerning the benefits of running
Be a bit patient with me here, new articles will be added on a regular basis.
The running tips articles will also be expanded further.
In the meantime you may want to checkout Dominique's running tips site over at best-running-tips.com
And of course, if you have any suggestions or requests do not hesitate to make contact. Any such suggestions are greatly welcomed.
In addition to all this, you may want to pay a visit to David over at tips4running.com - he provides som excellent running tips to all level runners.
NEW ! and - Questions and Answers
Weekly Questions and Answers
Wish to have a question answered ?

This is the place to post it.

Make the question relevant (that is : general - so that others can relate to it)

Want to have it answered - for guaranteed ?

As a special gesture to those who post on either the Marathon Reviews (found under "Marathons" in the left side menu)....

Or give a Marathon Tip (found under "Marathon Running" in the left side menu) - that automatically gives you a right to have one question answered ;)

See below the form for previous answers
What Other Visitors Have Said
Click below to see contributions from other visitors to this page...

Lactate testing
Lactate testing is usually not something you need to do in your training. But if you are training 7-10 sessions weekly and is ambitious in the sport …
Elliptical and Running
It it ok to do running combined with elliptical or cycling ? I received these questions below from Julie. My answer under each question in "italic" …
Kenyan Training
The Kenyan training principles is something I have personally studies a great deal through my 15 stays in Kenya. These principles are in particular …
Shin Splints
Shin splints is a common "unspecific" way of explaining a front side leg pain which is common for runners. I received two questions from two readers …
Runners Knee
Runners knee in the final period of training before a marathon is quite common. How do you deal with this and what are some other possible explainations …
Lactate Threshold and the Marathon
Lactate threshold training, that is specific training around the lactate turnpoint is the # 1 factor to increase the speed at which you start to accumulate …
Running Shoes Injuries
Running shoe injuries is more common than people think. The force you produce while running has to be evenly distributed through your body. Excessive …
Treadmill Workouts for 10k ?
Treadmill workouts for 10k running is a great way of getting in shape, very fast - injury free. As you can see in some of the other articles around - …
Overtraining
Overtraining is quite common to experience when preparing for a marathon. However, the reason for overtraining is usually not the mileage you run - but …
Marathon and Half Marathon for Beginners
What are the top beginning running tips ? Diane sent this question : "I have tried running, but I just have a hard time making it a routine. I am going …
Hill running and uphill workouts
Hill running - uphill workouts is something that has been discussed and used extensively by runners on all levels. It can be quite effective if it is …
Marathon Challenge
A marathon challenge greater than all of the rest is to avoid "hitting the marathon wall" around 25-30 km/20 miles into a marathon. Hitting the wall …
Cool Down Running
What is the best cool-down procedure after running ? Chris sent this question : "In which order should a cooldown follow after track efforts? …
Strength Training Marathon
How important is strength training in marathon training ? And what are the best strength training marathon tips ? Omar sent this question : "Hi, …
Achilles tendinitis
Achilles tendinitis problems before the marathon, what should one do ? " New York City Marathon 2009 is only 5 weeks away and my achilles hurts. This …
Road running training
Road running training : how to train if you want to compete year around ? I was sent this question : "I like to compete year round in various …
Heart Rate Training Marathon
Heart rate training for the marathon is a great way of boosting your endurance in a controlled matter. Shawn sent this question : I've read through …
Eating and drinking before a marathon
Eating and drinking before a marathon is one of THE most important things to take care of in your marathon training schedule/preparations. I received …
Marathon Heart Rate
Marathon heart rate , meaning what heart rate to run on during the marathon can be quite a challenge to find out. Michael sent this question : …
Injury and running?
It is wise to continue running when injuried ? Whats the best way to deal with injury and running. Michelle sent this question : I recently fell …
Masters Marathon
How should age influence your marathon training approach ? If you are a a master marathon runner, there are some things to consider. Robert sent …
Endurance Running
For all distances above the 5k, planning your cardio sessions wisely is a key element for optimal results. Endurance running sessions right around …
Running In Cold Weather
Running in cold weather can be a big challenge, especially in the shorter distances. But for the marathon, however, you usually don't have much to worry …
Marathon Recovery
The time needed for marathon recovery after a hard effort of 42 km/26.2 miles depends on how you deal with the post-race time. More specifically how …
How to run 4.30 marathon
How to can you improve your marathon time from 6 hours down to a 4.30 marathon ? This is a question I got from one of the readers; "Last year …
Other recommended running tips resources : TheFinalSprint.com webpage (linking out), best place for elite athlete blogs.