Marathons
Picking The Best Marathons/Half Marathons For Your Preference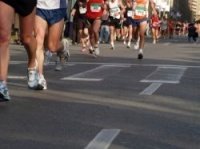 Marathons are staged practically in any major world city at the moment. You have the "main" marathon races such as the real international marathon races ; New York marathon, Berlin Marathon, Boston Marathon that you can read about in the separate sections (see navigation bar to the left).
Then you have a number of local races/smaller that are great for marathoning as a start or local experience.
Who better to ask for an opinion on this than the ones that have already participated ?
This is also the major page for letting your voice be heard/read what others have said about a particular marathon.
The link right below here will take you to the bottom of this page and to those reviews..
Click here to share a review, of your favorite marathon story, with visitors to this page!
A Guide to Marathons and Half Marathons - What To Look For
This is a guide to those other marathons that are not listed on the front page. You will also see a marathon calendar coming up here, for you to carefully and easily plan your future marathon or half marathon event.
You will see a number of main marathons being added here, that you can target your marathon training/marathon running towards. In addition to that, some "special marathons" that are all about the experience.
Last but not least, you can read what other marathoners have said before you,add your opinion about different marathons - in the visitor reviews you find at the bottom of this page.
Running Those Marathons - What Other Visitors Have Said & Review a Marathon
In the articles that will be posted here you can see information, description on the course - what the marathon is about in terms of the experience, the pros and cons to make it an easier decision in what marathon to choose.
In that way, it is easier to know what to expect + prepare yourself mentally and physically for the race to come. And when to put half marathon/10k/5k runs on the way to prepare
Putting in the miles to go the full distance is so much easier when you have one of the specific marathons there to aim for down the road...
There are several great runs out there, one of them being the Ottawa marathon which you can check out through the link.
Reviews and Marathon Tips
If you are ready to go, check out what others have said before you/submit your review right below :)
PS : for reviews on New York Marathon,Boston Marathon, London and Chicago, see their individual articles to have them placed there.
Your Marathon Story!
Do you have a story about how you prepared for and ran a particular marathon?

We would love to hear your opinion..


How did you prepare for the day, what training did/training regime to prepare and how did you finish ?


Tips on travel and accomodation ?


Did you like the course, anything to be aware of ?


Anything else of relevance...
Ps : see
right below the form
to read what others have said before you.
Make the submission above 150-200 words, so that the readers can really get to know your view on that particular marathon :)
What Other Visitors Have Said
Click below to see contributions from other visitors to this page...

Hill Training the Semi-Marathon that just Goes Up & Up
This is not a NYC story. This is simply to mention that one of the most difficult semi's to exist takes place in the south of France. I've been told …
Paris Marathon 2010
I ran the 2010 Paris Marathon. Being from Australia I had trained through the summer heat and humidity while Europeans and North Americans were training …
Paris Marathon 2009
I decided that I had to at least try and run a marathon, Paris Marathon, and this was the one that I was going to conquer in five hours. I trained …
Stockholm Marathon 2011
I prepared for Stockholm by Marius' 100day program sub 3:15. Runners say that Stockholm Marathon is avg 10-12 min slower because of a lot up (ca550m) and …
My First Marathon - Chicago
After signing up for a college marathon training class, I decided to start running two weeks before the class started. On the first day class, the instructor …
Disney's Wine and Dine Half Marathon
I travelled from Vancouver, BC to participate in this event and combined it with a family vacation. The event was held at night, and offered Disney entertainment …
Rock and Roll Marathon San Diego
As I sit down to write this, every muscle in my body is aching and my sense of smell is on overload. Icy Hot is now part of my grooming routine, but I …
Running with Brain Cancer
After being pronounced that my life is over with Brain Cancer I had to find different ways to today's reality but to whom I am which is "Tuto" …
Milano City Marathon
Milano City Marathon is staged every year in late November or early December. In this period, the weather in Milano is certainly not the best for sunbathing, …
More marathons :
Copenhagen Marathon - Welcome to the Danish capital for a fantastic marathon experience !
Oslo Marathon - Running the Oslo Marathon through a beautiful scenery in late September yearly.
Houston Marathon - The Houston Marathon is one of the prime running events in the US, held ever January in Houston, Texas
Seattle Marathon - In November each year.
Rome Marathon - The scenic Rome Marathon has it all. Great course, perfect marathon temperature and a special atomosphere.
Amsterdam Marathon - You cannot find a more flat marathon course than the Amsterdam one. This one is built for personal bests.
Portland Marathon - October in Oregon, a fun well organized event worth training for
Philadelphia Marathon - Prime marathon with this 50+ year old marathon every November in Philly