Disney World Marathon
Why Run the Walt Disney World Marathon?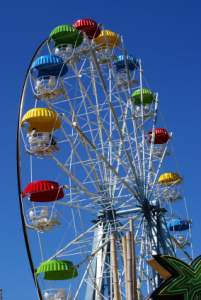 Walt Disney World Marathon is staged in Orlando, Florida (Fl) January each year. A full marathon and half marathon sets the stage of fast and fun running. This past January saw the fifteenth running of the Waly Disney World Marathon. On that occasion, the races occurred on separate days for the first time in the event's history, and Disney Sports Attractions has introduced Goof's Race-and-a-Half Challenge.
It is a little something they dreamed up for registered participants who complete both races, and the overall 39.3 miles running across Walt Disney World Resort during the two days.
Welcome to the article on World Disney World Marathon on Marathon Training Schedule
Here you'll find what you need to run the Disney Marathon, in terms of...
Registration
Course
Weather
and the "Disney experience"
Because the course/route of any marathon is so important for a good finishing time - added is a seperate article on that. If you want to check it out, it is located here...
Disney Marathon Course (click to read)
Lets start with the weather and some small points on this quite special Orlando,Fl Marathon.
Weather at the Disney Marathon.
When looking to run a marathon, the weather is always a critical factor. After all, you do not want things too hot or too cold. In the case of the Disney Marathon, they have it lined up for January of each year. In central Florida, that is beautiful running weather. It is generally clear and cool, and the humidity is not too high.
Thus the runners do not have to worry about overheating or getting too dehydrated over the course of the race. Also, if you are at all concerned about your health, you can also enter the half race rather than the full one.
Registration
When you want to register for the Disney Marathon, the easiest way to do it is to go to the disneyworldsports.disney.go.com web site.
They have the full information there for registering. For 2009, the marathon fee is $125, and the half marathon is $115. When you register, you get the official race program, a t-shirt, a goody bag, transportation to and from the Walt Disney World Resort Hotels, personalized bibs, refreshments and entertainment along the course, post-race refreshments and celebration entry, and a certificate.
The finishers of the main marathon get a Mickey Mouse medal, and the finishers of the half marathon get a Donald Duck medal. For 2009, there are new designs for both medals.
If you have come this far and considering an entry for the Disney Marathon, you can check out the results in the article...
To ensure you that the course is what you want (added later will be links to results for the 2009 Disney Marathon)
TV/Broadcast - Following the Marathon Runners As They Go Along
Nothing is done in half measures in Walt Disney World. So, the Disney Marathon is carried locally, and also broadcast over ESPN, which happens to be a whole-owned Disney subsidiary. So, little wonder that they carry the race.
Many photos are taken of the race by Disney cast members for posting on the official race web site; and, of course, visitors and the local press take plenty as well.
Of course, this being Disney, characters from countless Disney movies line every mile of the course, cheering them on - as do cheering fans. As an added bonus, Disney plays music over their audio system, and show scenes from some of their classic films on various screens. Talk about being entertained as you run!
Located in Orlando, Fl - more than Marathon Training and Running
As Walt Disney World is located in Central Florida, you have easy access to Kissimmee, St. Cloud, and Orlando. These areas have more fun, activities, food, and shopping than you could possibly do in any ten trips! Along US 192 (the highway that runs along the entrance to Walt Disney World) there are hotels, restaurants, and shops.
Generally, the hotel prices can be quite high; so you may want to look at staying in a place a little further from the parks. Living with a twenty or thirty minute drive to the parks is well worth the money you will save.
Now, in terms of restaurants, the best deals can be found closest to the parks. The businesses there know that people are anxious to get into the parks for fun, so they offer great deals on buffets.
In terms of local entertainment, you can take your pick from other theme parks - Universal Studios, SeaWorld etc. - local fun: Gatorland, Wet 'n' Wild, and some great dinner shows: Medieval Times, Pirate's Dinner Theatre, and many others.
Then there is the shopping. Places like Millennia Mall tend to cater to the high-priced; so, if you want to shop bargains, go to the discount malls like Belz's Factory Outlet Mall.Those are the stores that give great prices on just about anything you want to buy.
Wish you all the best with your Walt Disney World Marathon experience !