Best Running Shoes – What are the Top Nike, Asics, Adidas and New Balance Shoes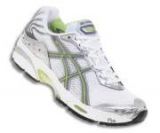 The best running shoes are not hard to find with this shortcut guide. Here we have a list of the top three running shoes for different types of running, as well as some tips on how to find the best running shoes around.
First things first, though. Before you start your search for the top running shoes, find out first what your foot type is. There are different types of feet, and determining your foot type is crucial in finding the perfect shoe that fits your feet perfectly.
This can have a huge impact on how you feel when you run, how comfortable and protected your feet will be, and also on how you perform on the whole. After all, the right running shoes have been known to help runners reach their optimum performance.
This means you have to know whether you are an overpronator or an underpronator. If you are neither, then you have neutral feet. If you overpronate, there are also shoes that correct mild to severe overpronation.
Here are the best shoes for the different foot types. Highly recommended brands include Nike, Brooks, Asics, Adidas, Mizuno, and New Balance.
Best Running Shoes for Mild Overpronators
Stability shoes are shoes that provide a mild level of motion control. Mild overpronators may feel hampered by the rigid control of motion control shoes. So a separate shoe category was created for them. These are the stability shoes, which provide support instead of full control. Below are the shoes that have been hailed as the best running shoes for stability.
Asics Gel-Kayano 15/16
Nike Air Zoom Structure Triax 12

Brooks Adrenaline GTS 9
1. Asics Gel Kayano 16
The ever popular Gel Kayano shoe from Asics is a stability shoe, much to the delight of all mild overpronators. Often hailed as one of the best running shoes ever created, this shoe is an excellent corrector of mild overpronator. Now on its 16th edition, the Gel Kayano shoes have been changing runners' lives for 15 years.
The main support system offered by the shoe is thanks to its Space Trusstic System and asymmetrical lacing system. The Space Trusstic System is a gender-specific technology involving a plastic material that wraps around the foot to support the foot without hampering its natural movement. The asymmetrical lacing system enhances the traditional laces to make sure it wraps around the foot just right.

2. Nike Air Zoom Structure Triax 12
There are a lot of Nike fans out there, so if you are a Nike fan and a mild overpronator, there's the Nike Air Zoom Structure Triax for stability. The 12th edition of the shoe offers excellent support and gives just enough cushioning for protection. The cushioning feature of the shoe is also very unique.
It features one of Nike's best exclusive technologies: the Air Zoom cushioning technology. This means the cushioning does not rely on foam that gets easily worn out. Instead, Nike uses air sole units that rely on the rebounding power of air under impact to provide durable cushioning as well as an extra boost in your performance.
3. Brooks Adrenaline GTS 9 - One of the Top Brooks Shoes
The Brooks Adrenaline GTS 9 is the 9th shoe in the Adrenaline GTS series, one of the outstanding and phenomenal series in the Brooks collection. In fact, the Adrenaline GTS has been known as one of the best creations of Brooks. It is a highly stable shoe with enough support for overpronators and enough comfort for the serious runner. It not only takes care of your stride with its stability features; it also takes care of your feet.
The secret of the Brooks Adrenaline GTS' phenomenal stability is the triple density medial post. This technology features a harder type of foam that is injected into the medial and arc side of the shoe along the midsole. It is where the overpronator's feet need the most support. But to make sure that the rest of the feet still get the comfort it needs, the shoe also features a softer post technology in the heel.
Other technologies that contribute to the sheer excellence promised by this shoe include the Brooks Hydroflow Cushioning system, synthetic overlays for the upper, and so on.
Best Running Shoes for Severe Overpronators
But if your overpronation problem is quite severe, the support you get from the shoes previously mentioned may be flimsy. What you need are motion control shoes that can really control overpronation no matter how severe the cases are. Severe overpronation can be a dangerous problem because it can cause injuries when you run. But with these shoes, you can easily reach the finish line with no problem.
Mizuno Wave Alchemy 9
Adidas AdiStar Control
1. Mizuno Wave Alchemy 9
One of the best motion control shoes is from Mizuno. The model is the Wave Alchemy 9, which works by preventing the foot's excessive rolling motion. This comes with the SmoothRide technology, which minimizes the acceleration and deceleration of the foot so that you won't lose the game against your pronation problem. This helps make your run smooth and stable.
2. Adidas AdiStar Control
The name says it all: this shoe controls excessive motion. It even won the Best Motion Control Award from Runner's World in 2005. It must be because of the special Ground Control System from Adidas, which provides maximum control but without the boxy and heavy weight of other motion control shoes. Who needs any more proof that this can help prevent severe overpronation?
Best Running Shoes for Severe Underpronators
Cushioning shoes are not just ideal, but are necessary, for underpronators. Underpronators are those with high arches. These arches fall down hard when you strike the ground, so they need extra heavy duty protection and impact absorption. Here are the best running shoes for the cushioning category.
Nike Pegasus

Adidas Cushion
Asics Gel Nimbus
1. Nike Pegasus
The Nike Pegasus is a great cushioning shoe, and the number 26, which means that the series is now on its 26th shoe, says enough. Named as one of the Best Buy shoes from Runner's World, this definitely belongs to our list of the best running shoes, and it wins in the cushioning category, making it ideal for underpronators.
The snug and comfortable cushioning is made possible by a full length Air-Sole unit that Nike is famous for. This type of cushioning is not just effective in absorbing shock; it is also exceptionally durable and long lasting. This is supported by equally resilient materials such as a Phylon midsole and a gender-specific crash pad that helps to make it easier and safer for your feet to transition from heel contact to midstance to toe off.
And lastly, who doesn't trust Nike?
2. Adidas Cushion
If you are an Adidas fan, on the other hand, you can check out the Adidas Cushion running shoe series. The series features several effective cushioning shoes built with durable and lightweight cushioning technologies from Adidas such as the adiPRENE heel and forefoot cushioning and anatomically molding EVA insole for midsole cushioning.
3. Asics Gel Nimbus - One of the Top Asics Shoes
Now on its 11th shoe, the Asics GEL Nimbus has been setting the standards for the best shoes for underpronate runners. Asics has always been associated with expert running and durability. For ten years, it has been showing its prowess through the unstoppable success of the GEL Nimbus series. And now, for the 11th year, the GEL Nimbus comes back to offer underpronators the secret to their running success.
Asics offers the special Impact Guidance System or IGS. This technology equips the shoe with a linked componentry system that helps the shoe adjust to the foot and vice versa as the foot hits the ground and transitions to the next step it takes.
But what identifies this shoe as the great underpronate shoe it is would be its gender-specific cushioning that features a Solyte midsole, which is lighter but offers a more consistent ride and quite enough shock protection.
Top Running Shoes for the Tough Trail Runners
Trail runners have special needs. Regardless of whether you are an overpronator or an underpronator, trail running shoes have special requirements, and here's the shoe that really met these requirements successfully.
1. New Balance 1225
The New Balance 1225 is commonly identified as one of the top running shoes in the business. Featuring several of the technologies that New Balance became famous for, the 1225 from NB is also a great trail running shoe.
It is perfect for the moderate overpronator but is made more durable, so it can withstand even the tougher challenge of trail running. The trail running shoe features a synthetic mesh upper that makes the shoe lightweight yet supportive, which is exactly what you need in a trail running shoe. And to make sure the shoe is always up for adventure, it comes with 360 degree reflectivity to give you visibility in areas with little light. It also uses New Balance's unique Phantom Liner which reduces foot abrasion and enhances comfort to make sure that your feet stays safe and comfortable even as the road gets rough.
You may also check out some further reading (and also on other gear) over at Dominique and his site on the best running gear : best running gear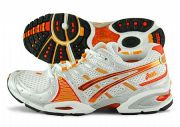 I'm often asked what shoes I personally recommend so I'll add a little bit about it. In general, the best is to find a shoe that fits your feet according to your foot type. However, these three shoes will do an excellent job with their mild correction - and will work for most runners :
1. Asics Gel Kayano
(click for zappos reviews for other runners views)
The legandary shoe from Asics. You cannot go wrong with this one.
2. Nike Pegasus Running Shoes
The most sold running shoes ever - and by every model seems to get better and better. About the same weight as the Kayano but the fit is a little bit different.
3. Asics GT 2150
The 2150 is a great alternative for the faster work you'll be doing in the 100 day plan. It is one of the few shoes that "feels" like a lightweight one but at the same time has more than enough stabilty to prevent injuries with the marathon type length of some of the interval sessions.
A tip for international (non-US) runners : check out roadrunnerssports.com : Example : Asics Kayano (RoadRunnerssports) they ship worldwide and it can really save you some money on your shoes.
Related articles :
Best trail running shoes reviews - What are the top trail running shoes ?