Milano City Marathon
by Martin K-O
(Oslo, Norway)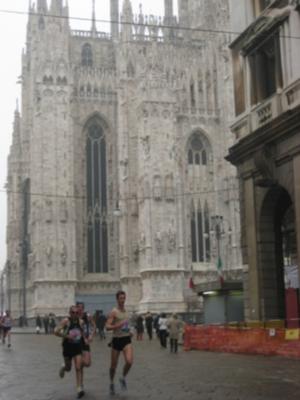 Running in front of the Milano cathedral (me in yellow)
Milano City Marathon is staged every year in late November or early December. In this period, the weather in Milano is certainly not the best for sunbathing, but you will experience more or less ideal conditions for marathon running with around 10-12 degrees C, no or very light winds and overcast.

The race is organized together with Rosa & Associati, which is a sports management firm with several good Kenyan runners in their squad. Many of these will run in the Milano Marathon trying to acheive a solid time, because it is truly a fast course - the fastest in Italy and among the fastest in Europe. It is basically flat, entirely closed for traffic and marked every kilometer. There are refreshment stations with water and sport drink every fifth kilometer (there are also fruit and cookies at the final half of the race). The start is in front of the historic castle, and you will pass famous sites such as the cathedral, the opera house "La Scala" and the San Siro football stadium.

In terms of practical details, the race organizer cooperates with the Fiera Milano (the fair and event bureau) so you will find good hotel deals through them. You can sign up for this when you register for the race. There are special prices for marathon runners, and normally hotels in Milano are quite cheap during the week-ends. Milano is easily accessible by air travel from all major cities in Europe and the world. I would recommend arriving in Milano on Friday before the race. That way you can go to collect your start number early on Saturday and avoid the long queues later during the day, and of course you will get two nights of good sleep before the race and be well prepared come Sunday. The start is normally around 9:30 in the morning.

Personally I ran this race in 2007 and shaved about two minutes from my previous personal best, and I can warmly recommend it to anyone seeking a fast course. And of course you can always combine the trip with some christmas gift shopping (or new outfits for yourself) in one of the best fashion cities in the world!
Join in and write your own page! It's easy to do. How?
Simply click here to return to Marathons.