The Running Program, Schedule It Smart And Personal
"Ask Yourself Some Important Questions To Guide Yourself To The Best Program For Running"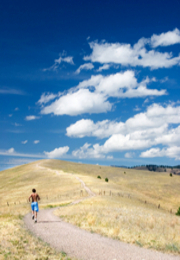 Are there any secrets to a good running program, the beginners running program or the more advanced ? Well if there are any secrets, it is in the questions you ask yourself in the planning.
The running schedule should be based on the answers you find to those questions and make it personally fitted for you as an individual.
See, running is a a demanding sport.
It is demanding because we have walked or run most of our lives. We are not like the cyclist that experienced his love for the bike later in life.
Therefore, we are not dependent on getting used to the equipment or - the quality of it. We have ourselves and our legs that we depend entirely on.
First Question In Planning Your Running Program : Number Of Weekly Runs...
How many days a week can I train on a continuous basis ?
And : can I adjust this for periods of the year ?
Be honest with yourself.
This answer helps you determine how many hard as compared to easy days you would want to aim for during a normal training week.
Then take this number of days training each week and :
Divide it with 2 if you are training between 4 and 7 times weekly
OR
Divide by 3 if you are training over 7 time weekly.
This is approximately what training should be above zone 1 training for you !
(See the "heart rate training section" for more information about the different heart rate training zones)
If you are training 3 times weekly, 2 of these may be harder, the third easy zone 1 intensity. This because you have so many days to recover from is such a schedule.
If you asked yes on the questions "can I adjust this for periods of the year" use this to work out a periodization plan.
Scoops On Running Program Periodization
Periodization means that some training periods should be harder than the rest.
In the former "East-Block" European countries they had some of the best athletes of all times.
Parts of this was due to illegal means but they also did extensive research on periodization. And found out that a mode of 2:1 or 2 weeks hard and one week easy (or 10 days hard, 10 days easy) was close to ideal for most.
What that means, is ;
Take two weeks hard before one week easy. Nearly all elite athletes, including myself use this kind of periodization plan.
The result is,
harder training in the hard weeks
and better recovery in the easy weeks.
total sum is less training and better results.
You want to "hard weeks" to have approximately 30-50% more training than the easy weeks.
A periodization plan may even involve treadmill running like I speak about here.
For example two weeks with hard workouts on the treadmill and one easy with running outside only.
Do I Have Any Nagging Running Injuries ? Respect This In the Running Program
For runners, it is especially important to be aware of achilles injuries, knee injuries and hip/groin type injuries.

These are the "main ones" that can cause long time out of training.

If you have any one of these - think through the workouts you have done over the last year.

And think through the different periods of training you have done.

For example, longer periods of marathon training, 5k/10k type, training on hard surfaces, speed work etc). And ask yourself if any of this caused the injury - or made it worse.

Usually, and almost to a surprise, there are a few key type sessions, surfaces, intensity work that makes problems for an individual. Be aware of and avoid these.

And you will be alright.

In addition to that, play extra attention to the choice of running shoes.

Get on a treadmill, videotape if you must the strike you have with different kind of shoes (if you struggle with injuries) or at least check out your wear pattern.
I have written a piece on this under "Marathon Running" and "Best Marathon Running Shoes"
Plus, take a look at the inside of the heel area of your shoe to see if it causes any kind of friction if you struggle with achilles,heel kind of injuries.
We Carry With Us Our Major Tool, the Running Legs.
As a runner, we always carry our major tool with us ; our legs. We are usually in close contact with this during our movement, during the day.
Our training tool gives us plenty of information during such a day. That we incorporate into our program for running.
Listen to how you feel on a daily basis. Be prepared to change the workouts according to this. And on a regular basis, try and test yourself in what workouts work the best.
In this way ; you play on the same team as your body in the training and preparing the best possible running program is much easier.
For more specific information, see the articles that I have posted on 5k training and 10k training as well as marathon running.
I wish you all the best in the planning.
Check below

for more articles.