Carlsbad Half Marathon
A Fast Californian Half Marathon for Fast Times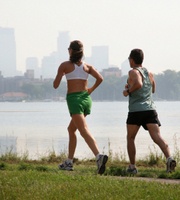 Carlsbad Half Marathon, which has been run for eighteen years, is usually run on a Sunday - late January, so you still have quite a while to train for it and to register even if your main thing is one of the fall marathons.
This race is the one formerly entitled the San Diego Half Marathon. It is one of a trio of Southern California half marathons which make up the Half Marathon Triple Crown. All of them are run along very scenic routes in this area.
Carlsbad City, which is located near San Diego, enjoys mild weather all year round and very little rain, making running conditions good. The Carlsbad Half Marathon is run in January every year when the weather averages between 64 F and 45 F, making it comfortable and not too hot.
Therefore, you really don't have to do your half marathon training in a hot climate to get used to it.
Carlsbad Half Marathon Registration Tips
Registration fees for the Carlsbad Half, instead of depending upon where you are resident,as many race fees do, with cheaper rates for locals, depends upon the date on which you register to run in the race, with earlier registration securing you a cheaper rate.
The field also fills up quickly so it is a good idea to book early and enjoy the cheaper fees. The registration fee is $60 if you register before July 15, 2008. Up to October 15, 2008 it will cost you $65 to register and after that, until January 21, 2009 or earlier if the maximum field of entrants is reached, will cost you $70.
You can reserve your place easily online at Active.com (linking out)
What To Except From The Carsbad Half Marathon Course
You can always expect a fast Carsbad Race. The course is flat. And it is fast.
The men's winner of the 2008 Carlsbad Half Marathon was for example Obed Mutanya (in a time of in 1 hr 4 mins 26 seconds. The women's race was won by Jacqueline Nytipei in 1hr 11 mins 37 seconds. Not too bad for a marathon in January, sort of in between the "prime" marathon/half marathon seasons.
Carlsbad gives you great coastal views which even local runners will enjoy. Also, non-residents will be pleased to be in Carlsbad in January to escape the cold weather that most of the rest of the country suffers from at this time of year in winter. Sun, sea and surf signify the route of the Carlsbad Half.
Runners will be able to fully enjoy the waves and sea air as much of the race's route takes runners along the coastline and shore after the first couple of miles through the city.
The Carlsbad Half Marathon both starts and ends at the Plaza Camino Real shopping center as the route goes out for half of the race course and then runners return along the same route.
The route is quite easy and flat, making this one of the fastest half marathons to be run in and around America. None of the elevations take runners more than 75 feet above sea level.
It is unfortunate that the Carlsbad Half Marathon now has to compete each year for runners and spectators with the Arizona RnR race which is held on the same day as this race each year. However, the Carlsbad Half Marathon is superbly well organised.
All half marathon participants must be able to maintain a 16 minute mile pace in order to be allowed to continue along the route.
Good luck with your Carlsbad half planning and running !