Chicago Half Marathon
A Special Half Marathon In The Heart of Chicago. The History,Course, Training and Results.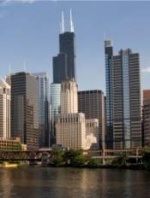 Chicago Half Marathon in Chicago, Illinois is the place for one of the primier annual half marathons out there. The 2008 Banco Populars Chicago Half is scheduled to start at 7:30 am on September 14th and is hosted around that time yearly. This event has been a favorite for many long-distance runners over the years. Last year there were 10,118 finishers that complete this half marathon. It is one of the largest long-distance running events over the 1/2 marathon in the world.
Below you can read about,
the Chicago Half Marathon course
the history
where to find results from the event
and a few words about Chicago Half Marathon training

The Chicago Half Marathon Course - a Fast Route

The Chicago half marathon starts, and also finishes, at the Museum of Science and Industry located on S. Comell Ave.
Shortly after the start S. Comell St. turns into 57th St., making a right onto S. Lake shore Dr., turns right onto E. Marquette Dr., passing the Jackson Park Golf Course, then turns right onto S. Comell Ave.

The first lap then turns left onto 60th St., then turns right onto S. Dorchester Ave., goes right onto Midway Piaisance that is part of the University of Chicago campus.
The course then turns left onto S. Stony Island Ave., then makes a right onto E. 57th St. 57th St. and S. Comell Ave. connect and the course continues on 57th St. This part of the course is only followed in the first lap and makes up nearly 4 miles of its total.

The route then turns left from 57th St. onto S. Lake Shore Dr. for approximately 3 miles, with a turn around on it at Burnham Park. It then goes back down 57th St. for approximately 4 miles. From where 57th St. connects to S. Lake Shore Dr. the course makes all the same turns made in the first paragraph to the finish line.

The course's total measured length is 13.1 miles of course and S. Lake Shore, which makes up most of that total, runs along the water's edge. The remainder of the course goes through park lands and a school of higher learning. The pleasantry of the ambience is one reason why so many long distance runners come to this event.

The Chicago half marathon course provides aid stations about every 1.5 miles. Aid stations will have water available. In addition, there will be multiple stations throughout the course that will be providing Gatorade Endurance Formula.

For spectators the course is highly spectator friendly, with places for you to observe just about anywhere.

Registration

The current registration fees are $55 from April 16th to July 31st and $65 from August 1st to September 5th. All entrants must be at least 16 years of age on race day. Registration can be completed on-line or participants can download entry forms and mail them in.

Chicago Half Marathon Results

All finishing time results will be posted on the internet at at the official site of the Chicago Half Marathon that you can find here. Top time finishing results will be broadcasted over local television networks and in local newspapers.

Because this is such a big event local television crews and newspapers will be telling and writing their stories.
What Weather in Chicago During this Half Marathon?
The weather in Chicago, Illinois will be mildly hot, with day time temperature averages in the mid 70s.
Because the Chicago half marathon takes place in the middle of September, not quite autumn yet, prepare for rain and/or thunderstorms, which can happen during the summer months. Average rainfall for September is a little over three inches. Whether you are a participant or a spectator you might want to consider taking along some light rain gear to the event.
A few thoughts on Chicago half marathon training
This is a flat, fast course. Your main thing will therefore be to get in enough of the longer runs where you push the pace on flat terrain. Plus, in addition to that, you may want to hit the running track for a few sessions, regardsless of what level you are at. The springy feeling you get from there will benefit you in such a flat type half marathon.
For more info on half marathon training, click below...