The last zone. Going hard. Heart rate running close to max.
Zone 5 - 10 km to 5 km pace. 90-95 of maximum heart rate.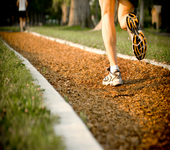 Time for some speed endurance :) Zone 5 training is my kind of work ; good, very hard sessions. This is actually hardly heart rate running as the other heart rate training zones. It is more pushing the pace.

This is sharpening your body for real.

Zone 5 training can be done in every part of the training cycle but should have some periodization to it.
The mind is stronger than the legs..
The mind is stronger than the legs - especially when it comes to this intensity zone.
Therefore, shoot for blocks of 4-6 weeks of 1-2 sessions of Zone 5 training followed by some weeks with 0-1 session weekly.
That gives you a nice buffer in your marathon schedule to stay in balance.
And when you really get close to the marathon race, make sure that these type of sessions are combined with some pure marathon work for a complete plan.
Click on the menue below to read about the other heart rate zones. Or click to read about finding your maximum heart rate.