New York City Half Marathon
"A Fast Course New York Summertime"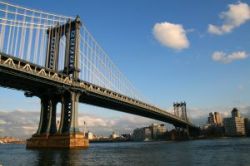 New York City Half Marathon takes place in late July yearly.
It's hard to believe that this race is only in its first years but is run by ten thousand people yearly.
The scores in the New York City Marathon count towards guaranteed entry for the full New York City Marathon.
Weather - Expect a Hot Day
Typical temperatures for July in Manhattan, New York when the New York City Half Marathon is run are usually approximately 70 degrees F but can rise as high as 83 degrees F. The average humidity of 61% at this time can be a bit of an issue for runners too.
 How to Registration For New York Half
Registration for the New York City Half Marathon costs $75 for U.S. residents and $100 for non-U.S. citizens, with all participants also paying a $5 processing fee. There are too many people wanting to take part each year so entrance is by way of an online lottery, which usually opens in March of each year.
Want a Quick Time - The NYC Half Marathon Is An Excellent Half Choice
The 2007 men's race was won by Haile Gebrselassie 59 mins 24 seconds, which shows that the New York City Half Marathon is quite a quick race. The women's winner, Hilda Kibet, got home in 1hr10 mins 32 seconds.
Course/route - What to Expect
The New York City Half Marathon starts at East Drive in Central Park and takes a clockwise loop all around the park. This part of the route is quite hilly, especially between miles 3 and 5.
However, even these hills are manageable, as the heigt=ht levels only deviate between 25 feet below sea level and 125 above sea level. From there, the race progresses down Seventh Avenue to the famous Times Square.
That is just one of the famous landmarks along the 13.1 mile route of the New York Half Marathon, which them takes in 42nd Street and Broadway. You can even pass the Statue of Liberty.
The race also takes a path by the side of the waterfront of the Hudson River, which is almost flat, through downtown Manhattan, until finally finishing near Battery Park.
The WABC / Channel 7 broadcasts online, on demand coverage of the New York City Half Marathon each year.
The Whole New York Experience
The New York City Half Marathon has a real mixed field of runner from serious competitors to runners who are in it more for the fun. Several runners use it as a warm up run for the full length 26.2 mile New York City Marathon.
So if you are up for a summertime marathon in preparation for the a fall marathon, this may be the choice for you.